If you're in the market for a
roof replacement
– or even if you're not – commercial rooftop solar technology has come down in price. It's now more affordable than ever to install. If you checked into it a few years ago and ruled it out because it seemed cost prohibitive, it's time to look at it again. You can have your roof replaced and begin recouping some of that cost by lowering your electric bill.
Commercial Rooftop Solar is Easier (and More Affordable) Than Ever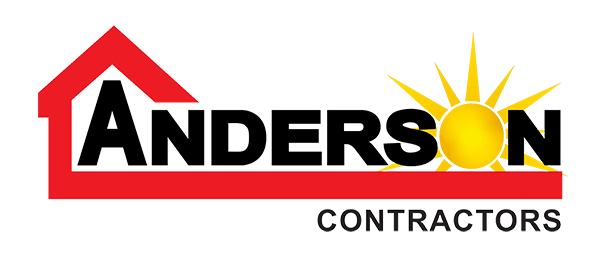 At Anderson Contractors, we've partnered with solar installation companies to make it affordable and easy to go green. Renewable energy is a topic of conversation for many right now, and we make it easy to get started. Solar energy is clean and can't be depleted. We know many businesses want to make the switch to solar but aren't sure how to go about doing it. Our Power Purchase Agreement enables our clients to receive a custom roof replacement and roof-mounted solar system with no money down.
No kidding. No money down.
Anderson Contractors
and our solar energy partners make going green easy and affordable with lots of benefits to your company.
Benefits of Commercial Rooftop Solar
Okay, so solar is good for the earth. Everyone knows that, right? But how is commercial solar good for your business? Rooftop solar provides:
Environmental Benefits with Clean Energy – Roof-mounted solar systems utilize the free energy provided by the sun's rays. These systems produce zero emissions, and solar panel production has limited impact on the environment. Solar is clean, renewable energy that is great for our planet.
Reduced Dependence on Fossil Fuels – Solar energy production does not require the use of fossil fuels, allowing you to reduce or eliminate the need for energy purchased from local utilities. Rooftop solar is a smart solution for your business.
Roof-Mounted Solar Systems are efficient, cost effective, reduce the carbon footprint. They feature low noise, require little maintenance and have lifespans of 20 years or more.
Additional Benefits of Rooftop Mounted Solar Systems
PR – Solar installation shows that you're a company that cares. You're working towards a better future for your business and the planet. Solar installs can be part of a larger green initiative for your business and it looks good from a public/media relations and a marketing perspective.
Appreciated by Your People – whether you own the building in which your employees work, or you're a building owner who leases out space, employees appreciate the efforts to becoming a more environmentally-friendly business.  Renters will appreciate lower electricity bills. Solar panels often make it easier to rent the building.
Tax Credits – depending on your state and the current federal tax laws, your business may also be eligible for tax credits, rebates, grants, and other green energy incentives.
Increased property value – it is possible that the addition of solar panels will increase your building's property value.
It feels good when something you're doing for the environment also benefits your business.
Next Steps in Installing Commercial Rooftop Solar Panels
Anderson Contractors makes it easy to embrace solar. We work with several solar providers for extraordinary pricing and a "no money down" offer because we wanted to make it easy for you to benefit from energy innovation in your business. Contact us and we'll send out a solar and roofing expert to discuss the project. We'll assess the condition of your roof and the placement of the panels. Each location must be individually assessed for maximum production. In solar energy, placement matters. We'll work with our solar roofing partners to ensure a top quality roof and solar panels that will last your business for the next twenty to twenty-five years. If you're interested in learning more or you want to take advantage of our no money down offer, call us today.