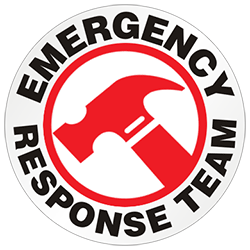 Do you know the best time to replace a roof? Before it leaks. Do you know the second best time? NOW! If you have a leak. If you find yourself in need of commercial emergency roof service, you want fast service, a reliable estimate, and someone you can trust, but when you don't have time to interview five roofing contractors, how do you know you're making a good decision?
What to Look for in a Commercial Emergency Roof Service Contractor
Experience
It doesn't take any time at all to call yourself a roofing contractor and it can be a volatile business. Many roofing businesses fail. They're open for a few years. They do a couple hundred roofs and then their shoddy workmanship gets them into trouble. Even in the situation where you need emergency roof service, look for a roofing contractor who has been in business for at least ten years. That way you know they've done the work and their work has had time to mature. If there were problems with those roofs they would've shown up by now. Our estimators are all commercial roofing repair experts and able to navigate the things insurance companies need to process your claim efficiently. We'll provide you with a detailed analysis explaining where the leak originated. Our professional analysis will also discuss the options for your roof repair.
Urgency
A true commercial emergency roof service contractor will dispatch crews quickly and prioritize based on the level of emergency. They're prepared for a weather event or an emergency leak. They can also assure the crew will be there doing the work, weather cooperating until the job is complete.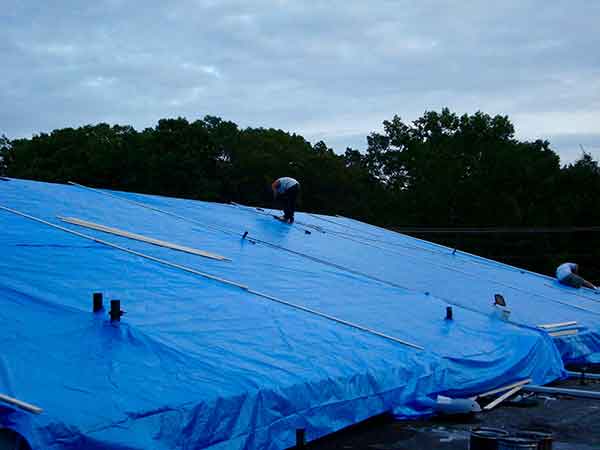 Some companies take on more work than they can complete during times of weather emergencies. They get up on a roof, tack a tarp down, and head to the next job, collecting all their money up front. Choose a crew that will be there until the job gets done.
Quality
It may be hard to assess portfolios of quality workmanship when water is pouring into your facility and a lot of roofing contractors count on you not to do your due diligence. But if you think a leak is costly, wait until you see what a badly patched one will cost you. Ask for customer referrals and use the Internet to see what people are saying about your emergency roofing service contractor. Then inquire about the guarantee on their work. Get an understanding of what they stand behind and what they cover.
Teamwork
In an emergency situation, your roofing contractor may be working with other workmen such as HVAC technicians. It's important to understand how they will coordinate efforts and whether a project manager will work with them. Look for someone who has the experience of working in weather-related emergencies because you know they're used to working under pressure with lots of different types of professionals.
Storm Knowledge
Some emergency roofers are desperate to capitalize on weather-related emergencies. Because of this, they will patch the leak as quickly as possible and move on. While this sounds like a great thing, if the weather is not cooperating, it's like shoveling a driveway before it stops snowing. While we're not weathermen, we do check the weather every hour. We do this because we want to make sure no further water infiltration occurs. We generally stop the cause of the leak so that it doesn't continue but we wait until the weather system has passed before complete assessment and a more permanent solution can be completed. Select a roofing contractor who acts urgently but plans effectively. Your roof is a major part of your business investment. The quickest patch is not a long-term solution. It's a temporary one that's necessary but the work shouldn't stop there. Anderson Contractors can provide emergency services and crews to minimize potential or further damage to your commercial or industrial roof. We have over 30 years of experience in roof damage emergency response with every severe weather event and hurricane to impact the East Coast Region – New York to Florida.